Over 20 years in the world of car parts
We represent the most renowned manufacturers and trademarks in the world.
Distribution of spare parts
As one of the leading companies in the field of import, sale, and distribution of spare car parts for passenger and commercial vehicles, C.I.A.K. AUTO d.o.o. guarantees a professional level of service and the widest product range available.
We have over 1,500,000 items for passenger and commercial vehicles in our offer, which includes a wide array of oils and lubricants, tires, car equipment, and car batteries.
The power of CIAK lies in 800 of its employees, whose dedicated work and professional attitude constantly raise the quality of our services. Continuous presence of our commercial network of sales representatives provides our customers with fast and available information about our offer of products and services. We distribute our products through our own fleet of vehicles, which includes over 150 delivery units.
.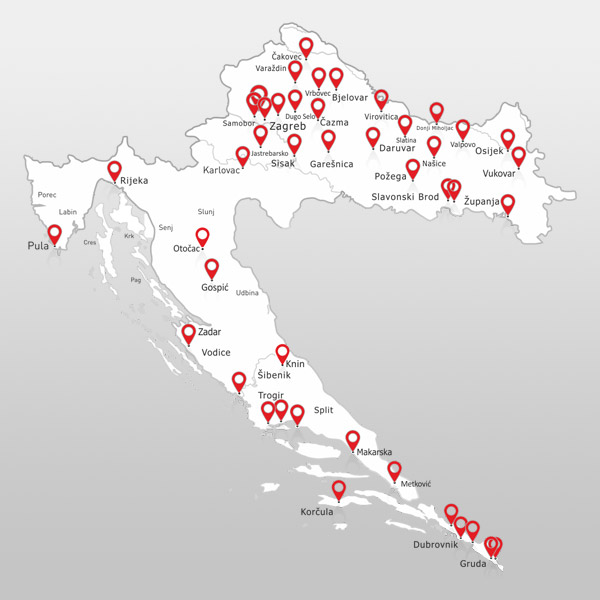 Presence in all market segments
With our chain of 56 shops, we are present in cities all over Croatia. Daily activities of our recognizable delivery vehicles allow us to establish a capillary delivery network for our business partners. Our call center, which tracks phone and online orders, e-mail inquiries and social networks and provides other sale-related tools, has allowed us to have services present in all segments of the market.
We can be reached via free information phone line, e-mail, Facebook and other social networks.
We are the first company in the field of car parts in Croatia to introduce a loyalty program and benefits cards. Joining our program is completely free and, depending on the amount spent, our CIAK Auto card makes you eligible for numerous discounts with every purchase at C.I.A.K. Auto retail stores and in our web store.
In addition to discounts, CIAK Auto loyalty program members enjoy other benefits which are updated and changed depending on the season and the needs of our buyers.
CIAK Auto Academy
With the technological development in the automotive industry, the complexity of vehicles and their maintenance has increased. In order for the independent aftermarket to remain competitive in terms of knowledge and customer services in relation to registered service networks, continuous education of car mechanics has become the key of success.
CIAK Auto has recognized the importance of this segment and for the past few years we have been supporting our partners by holding educations in cooperation with our suppliers, such as TMD Friction, Vale, the Bilstein Group, ZF Friedrichshafen and others. Through 140 seminars held in over 30 locations across Croatia, we have introduced our partners to the most recent technological innovations. Taking note of the interest for additional education, we have decided to make a step forward and start the CIAK Auto Academy.
CIAK Auto Academy is the name of a joint set of lectures intended for further professional development of car mechanics and mechatronics engineers in which theoretical and practical education takes place in locations across Croatia, in order to get in touch with all of our partners regardless of the location.
Department of Tools and Service Equipment
CIAK Auto understands the need for reliable professional tools and service equipment which is fundamental for performing technologically demanding tasks performed by our partners every day.
Taking into consideration the needs of our partners, we have included only the top quality tools and services equipment in our offer, produced by the world-renowned manufacturers such as BOSCH, Ravaglioli, KS Tools, USAG, Milwakee, BrainBee and others.
In addition to installation and commissioning of every recently purchased device, machine, or vehicle lift, our experts will provide maintenance and servicing for all tools and service equipment. Our knowledge and experience are made available to all our business partners when planning and furnishing their service shops or business spaces.
Certificates
CIAK Auto has set high standards of quality and professionality in all business fields; we are the first choice for our clients to contact, we are a desirable employer to our employees, a reliable partner for business entities, and a socially responsible company, which is visible from certificates of excellence;
ISO 9001, ISO 14001, ISO 45001 i ISO 50001.
AD International
CIAK Auto is a proud member of AD International, the group which joins over 500 wholesale distributors from 33 countries with the goal of exchanging information and improving business methods with top-quality logistic efficiency. ADI International provides support for all its partners in terms of adequate and timely information and technological support in terms of training, counselling and assistance.
ADI has established its own exclusive program for improving and promoting technical training and support: Eure!Car. Eure!Car includes high-quality training sessions for professional mechanics and is supported by leading car part manufacturers.
CIAK Auto Academy represents a successful implementation of the Eure!Car concept in Croatia, with the end goal of increasing the level of knowledge of the independent aftermarket.